Dexster is a perfect audio editor tool for your audio production that supports many popular audio formats and features audio CD burning. Dexster audio editor provides cool and easy-to-use interface that allow you to edit an audio file visually (Cut, Copy, Delete Select, Delete Silence, Paste, Paste From File, Mix, Mix From File). Supports multiple files editing at the same time and Keyboard Shortcut Commands. You can insert and change described information about marker / audio file. The software allows to apply different effects (Amplify, Compressor, Delay, Envelope, Equalizer, Expander, Fade, Flanger, Invert, Normalize, Phaser, Reverb, Reverse, Silence, Stretch, Trim, Vibrato, Chorus, Pitch Shift, Distortion).
Also it can apply Virtual Studio Technology (VST) effects and preview effects before apply. Audio Editor has the Audio Player which can play an audio file or any part of it.
Apply Audio Filters and Audio Restoration
Apply audio filters to the selected part of an audio file; Band Pass Filter, FFT Filter, High Pass Filter, High Shelf Filter, Low Pass Filter, Low Shelf Filter, Notch Filter, Peak EQ Filter, FIR Filter
Vocals, Noise, Clicks, Pops, Reduction
Audio Mixing
Mix one audio file / content with another
Mix Stereo Channels
Audio Recording
Record an audio file from a microphone or from other input devices
Recording Timer to control the recording duration
Audio CD Burning
Audio CD Burning (Blue ray drives supported)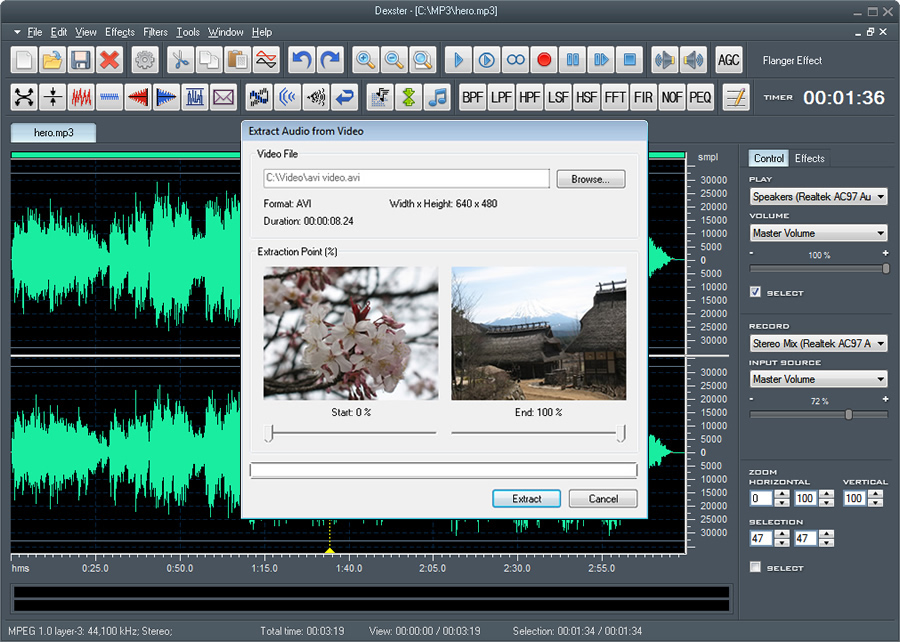 Audio Extraction
Extract Audio from Video or Audio CD
Audio Merging
Audio Format Conversion
Convert an audio file from one format to another. Batch audio conversion is also supported.
Set Audio Formats Frequency, channels and bitrate
Dexster Audio Editor Supported following Audio Formats
Uncompressed/Compressed WAV (PCM, ADPCM, GSM, DSP and others)
MP2 (MPEG 1/2 Layer-2)
MP3 (MPEG 1/2 Layer-3)
MP4 Audio –

New

M4A Audio –

New

FLAC Audio –

New

AAC audio –

New

VOX (Dialogic ADPCM)
Audio CD
WMA (Windows Media Audio 9)
RAW audio (PCM, A-LAW, U-LAW)
MPC (MusicPack)
AVI (audio track)
Ogg Vorbis
G.721, G.723, G.726
AIFF (Apple audio format)
AU (UNIX audio format)
Supported Operating Systems: Windows 2000, XP, Server 2003, Vista, Server 2008, Windows 7, Windows 8/8.1, 10.
Size: 12.54 MB
DOWNLOAD Dexster Audio Editor 4.5 NitroFlare
DOWNLOAD Dexster Audio Editor 4.4 Portable NitroFlare