Ashampoo AntiSpy for Windows 10 is a new, portable and free tool, which gives you an overview of all critical system settings. It allows you to disable each one at the click of a button. Two included presets allow you to disable any reporting to Microsoft or rely on recommendations by our security experts.
Ashampoo Antispy for Windows 10 allows you to reconfigure many of pre-configured Windows 10's privacy-related settings such as block access to your calendar, emails, your location and many more. On launching the program, it immediately asks if you want to create a restore point, in case any problems or errors occur.
Ashampoo AntiSpy for Windows 10 can tweak more then 40 options such as covering browsing, updates, location features, webcam or microphone access, Cortana, Contacts and Calendar, and assorted telemetry settings.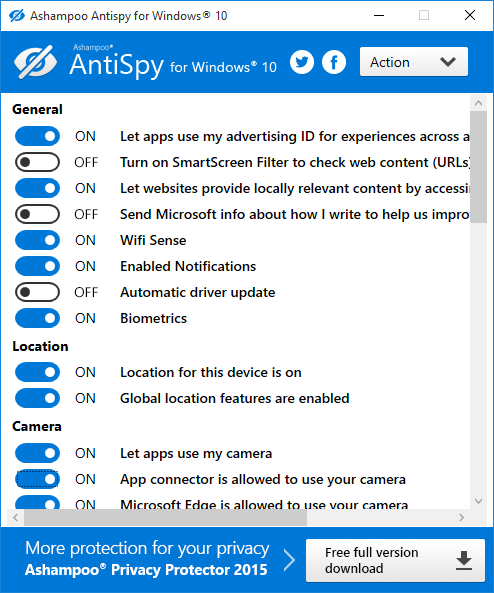 Windows 10 offers many comfort features such as the virtual assistant Cortana that can make everyday life easier for you. To make this possible, Windows 10 has to collect huge amounts of data. It also analyzes user profiles to display user-tailored ads as Microsoft openly acknowledges.
So by default, Windows 10 is set to collect more data than many users would allow. Even the recommended express installation later states that: if you don't want a particular setting, you'll have to disable it yourself.
Ashampoo AntiSpy for Windows 10 Features:
Configure security settings
Protect your privacy
Disable location services
Prevent Windows 10 from sending diagnostics and usage data
Operating systems: Windows 10
License: Full Version (DOWNLOAD & use for free)
Homepage https://www.ashampoo.com/en/usd/pin/1004/security-software/Antispy-for-Windows-10
Size: 412 KB
DOWNLOAD Ashampoo Antispy for Windows 10